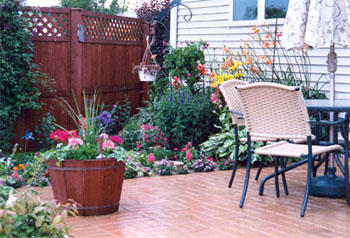 Earthscapes, Inc. can help you with any landscape project, large or small. Projects can be residential or commercial, renovation to new construction. Design services are available as well.
We can meet with customers and give them ideas on what to do with their outdoor living environment. Appointments can range from recommending a shade tree in a certain location to designing a full landscape plan. These plans can include, but are not limited to: plantings, patios, walkways, retaining walls, lawn areas, and privacy areas.
Many homeowners have an idea on what they are trying to achieve. We work with them to enhance these ideas.
Testimonials
"One thing that people fear most when trying to decide their landscaping needs is the hiring the right person to perform the necessary work and designs. What I look for in any trade, is the ability of understanding not only the plans and project details but also the desire and respect of the clients they work with. Can they communicate? Can they interpret the customer's design concepts when the customer frequently has limited vision of what the end game should look like.
I have been in the building trades most of my life. I've hired numerous sub-contractors to complete those trades where my teams of carpenters did not have the professional skills to complete something outside of the building aspect itself, such as the property's hard and soft-scapes. In other words, the landscaping project. How the landscaping turns out can sufficiently make or break property values regarding large dollars at times. It needs to support the dwelling, compliment the natural surroundings and also benefit the community. It needs vision.
My time (27 years) as a design-builder has taught me that recommendations cannot be made lightly. Through careful selection and interviews of my sub-contractors I learned these core values of professionalism, courtesy, respect for the trade, the craftsman, the customer and each other. I've observed cohesive teams working in concert with each other to develop very intricate and beautiful long-lasting projects from plumbing, electrical, finishes and so on. Landscaping is frequently forgotten or given very little attention to what it can add or subtract from the beauty and value of a project that was just painstakingly created.
My sincere recommendation for ALL I've just mentioned above is for a team of professional gentlemen that work in concert to attain the vision of the customer and leave no detail out of the project - bar none! From the gentlemen that show up each day, providing extremely skilled craftsmanship to the owner and operator of these teams (Bob), as we have come to fondly know him. He leads by example and is the epitome of something rarely visible in our society these days...called customer service. EARTHSCAPES LANDSCAPING is truly concerned for you and your project and that your satisfaction of the project is paramount. The only other making this company standalone is their binding to contract. Bob will set a date to begin and will be there. He sets his (Very reasonable by the way) prices and does not exceed.
If you truly want to hear the details and praises of this team sung from the rooftops from a very satisfied couple in the Madison, WI area and the work they performed, I will gladly make myself known to his public as a solid recommendation and will provide my number through him. Earthscapes will be that company I call for any of my landscaping needs including the many other services needed in your outdoor living that they provide. Earthscapes will also be the only landscaping company I refer to anyone interested in their landscaping needs and projects. Well done Bob...very well done! "
Regards, Paul - PhD 2016
---
"We are very satisfied with the quality of work completed by Earthscapes, Inc. The final grading, design, and appearance of our property is rewarding and brings a smile to our face. Earthscapes performed exceptionally well and provided friendly service in a timely manner. Initially, we experienced molding mulch and were dissatisfied with its appearance. The owner, Bob, was immediately responsive to our needs and ensured us that if the molding re-occurred the following year it would be replaced at no extra cost.
The following year, Bob and his crew did just that. We can home one unsuspecting night to find Earthscapes had removed all of our old mulch and had replaced it with new. The new mulch has met our expectations and has brought a new richness to our property. Thank you Earthscapes and crew for your concern, honor. and professionalism. We will not hesitate to call for future landscaping needs."
Brent & Becky/Residential
---
"John and I cannot say enough about your excellent customer service and quality workmanship. We are enjoying our patio which is well constructed with pavers. It has remained level, yet slopes gently away from our home to provide great water run off. The pavers are all properly placed and the design is beautiful. Your follow-up to make sure all was in place as it should be was greatly appreciated!
Now on to our fence. 200 feet of vinyl fence was quite a formidable project but you guys did it so well! It is perfectly level and standing straight. We could not have done it without you. Additionally, we appreciated your care with lawn repair after the fence was installed. You left our site better than you found it..that is for sure. Your crew always showed up as planned and it was apparent that they loved working as a team. Thank you so much again for your quality work."
Janice & John/Residential